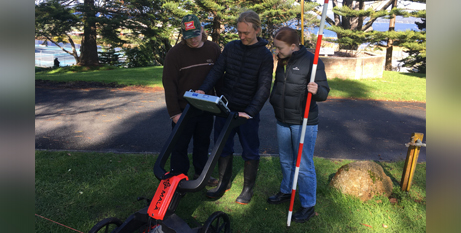 A team of staff and students from the University of Notre Dame Australia believes it has found the remains of a 187-year-old jail at a historic site in Albany, in Western Australia's south. 
Led by Archaeology and History Senior Lecturer Shane Burke, a group of 14 students recently spent three days in Albany exploring the early European settlement area of Lawley Park with ground-penetrating radar.
They believe they found the structural remains of the 1836-built town jail about 0.8m below ground.
Records show the brick jail measured 5.6m by 11.6m in 1852 and was probably demolished in the 1870s.
Dr Burke said Lawley Park was a fascinating site that had many different uses over thousands of years.
He said the fieldwork revealed that physical evidence of Albany's history and prehistory that was yet to be discovered still existed.
"Lawley Park has had much heritage significance, having been used by the British as a store, commissariat and jail in the 1830s," he said.
"Our students set out to find historical and archaeology evidence of how the site has been used by the people who lived in the region over the years.
"What they uncovered was that just below the ground's surface are the reminders of previous people's use of the area going back thousands of years.
"The jail was a small structure that was occupied by police constables and prisoners before it disappeared, probably in 1870.
"We also found surface artefacts of different dates at the base of the hill that showed the area was also possibly used for recreation and military functions."
The team covered 300sq m at Lawley Park with ground penetrating radar and pedestrian transects and were given access to historical records at the local library during the trip.
The findings will be compiled in a report that will be provided to the City of Albany to help guide future developments in the area.
FULL STORY
Possible remains of 187-year-old gaol uncovered in Albany (UNDA)