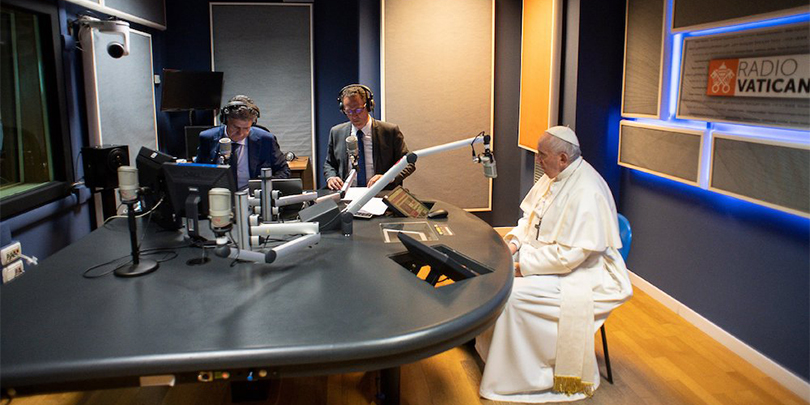 Young people today must be open to love and let themselves be led and accompanied by God in the face of life's challenges, Pope Francis says in a new podcast. Source: OSV News.
In the second edition of the "Popecast", produced by Vatican Media in Italian and released yesterday, the Pope responded to the stories of young people recorded ahead of World Youth Day in Lisbon, Portugal, to be held August 1-6.
The first episode of the Vatican Media's podcast with Pope Francis was released in March, in which he looked back on the first 10 years of his pontificate.
Meanwhile, the Popecast's latest episode focused on marginalised youth, and one person the Pope heard from was Giona, a transgender, homosexual and disabled Catholic who described how his faith helped him accept his identity and body despite his disability.
"The Lord always walks with us, even if we are sinners he comes toward us to help us," the Pope said after hearing Giona's story. "The Lord loves us as we are. This is God's crazy love."
Like the prophet Jonah, "people are often stubborn", he said, "and that stubbornness closes us" to God's love. Yet the Pope urged Giona to "not surrender" and recalled that "God always caresses us" and "walks with us," even if it is sometimes difficult to feel.
The Pope then listened to two young men share how they resorted to crime and violence in response to their troubled backgrounds. Both are now involved in a Catholic organsation supporting young people in need near Milan.
"You were not alone on your journeys, not even when you made terrible mistakes; the Lord was there, ready to take you by the hand, ready to lift you up " Pope Francis said. "It was he who created the circumstances in history to lift you both up."
Turning to all young people, Pope Francis urged them to attend World Youth Day, responding to those who may not feel like going by saying, "it is worth it to take the risk."
"In life, who doesn't take risks doesn't move forward," he said.
FULL STORY
Open yourself to God, pope tells marginalized youth ahead of WYD (By Justin McLellan, OSV News)