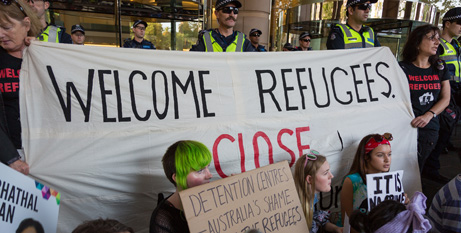 Prime Minister Anthony Albanese will face pressure at Labor's national conference in Brisbane to establish a royal commission into the cost of Australia's mandatory detention system. Source: The Australian.
Labor for Refugees – made up of ALP members and unionists – will move a motion for the new platform to bind a newly elected Labor government to establish a royal commission within six months of winning a second term.
The royal commission would have the scope to look into the former Coalition government's track record in onshore and offshore detention, according to the group's submission.
In a separate private briefing note sent to members, Labor for Refugees lashed out at changes to the draft national platform, setting up a showdown over a contentious boats policy at this month's national conference.
Labor for Refugees has been calling on the Prime Minister to close all Australian facilities on Nauru and resettle any asylum-seekers remaining there or in Papua New Guinea.
The group has also urged Mr Albanese to commit to never re-establishing, expanding or promoting offshore detention.
Home Affairs Minister Clare O'Neil said the Labor Party was "a democratic party which holds open and transparent debates about policies and issues affecting Australians" but the Cabinet would ultimately set the policies.
Opposition Home Affairs spokesman James Paterson said Ms O'Neil was under "massive pressure from the Left of her party to water down Australia's successful border protection policies".
He urged her to stand up to the Left faction or risk restarting the "misery" of the human trafficking industry that surged when Labor was last in power.
FULL STORY
PM under pressure for 'truth telling and reconciliation' detention probe (By Jess Malcolm, The Australian)