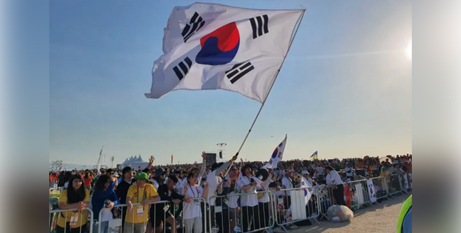 The next World Youth Day will be held in Seoul, South Korea, in 2027, Pope Francis announced at the conclusion of the final Mass of World Youth Day 2023 in Lisbon. Source: CNA.
"The next World Youth Day will be in Asia," the Pope said following yesterday's concluding Mass of the 15th international World Youth Day, immediately before reciting the Angelus prayer. The announcement was met by loud cheers and applause.
Catholics from South Korea at WYD responded with happiness and excitement to the announcement.
Young Ju Kim, 25, from the city of Busan, said it was "surprising" and "an honour" that her country will host the next World Youth Day.
"It is so incredible because Korea is separated into the north and the south, so … it is an important time for our country," she said.
It is "a great gift for all of us," said Giulianna Peccini, an Italian missionary working in Korea for 25 years, adding that World Youth Day in South Korea will bring "a renewal of our faith."
More than 1000 Korean Catholics attended WYD 2023 in Lisbon.
South Korea has nearly 6 million Catholics, 11 per cent of the total population, according to 2022 statistics from the country's Catholic bishops' conference.
A 2020 survey by a Korean research journal, tracking recent religious demographic changes in the country, found that about 50 per cent of South Koreans are non-religious, while 32 per cent are Christian, and 16 per cent are Buddhist.
Pope Francis visited South Korea in 2014. During the five-day trip, he beatified 124 Korean martyrs and took part in the sixth Asian Youth Day.
FULL STORY
Next World Youth Day to be in South Korea in 2027 (By Hannah Brockhaus, CNA)