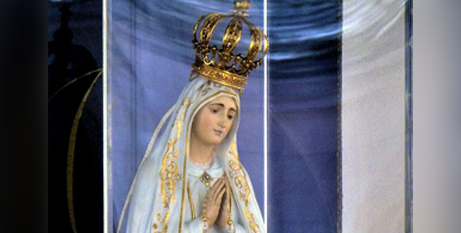 A visually impaired 16-year-old girl from Spain says that she is now able to see after receiving Communion in Fatima on Saturday, the day of the Pope's visit to the Marian shrine in Portugal. Source: Aleteia.
Jimena had lost most of her vision over the past two-and-a-half years, she told Spanish COPE radio station.
She had travelled to World Youth Day from Madrid with a group from Opus Dei. Her family and friends had organised a novena to ask Our Lady of the Snows for the gift of her healing.
The last day of the novena was August 5, the feast day, but she says that she woke up that morning "with everything very blurry, seeing almost nothing".
Anxious for relief from this suffering, and considering that it was the last day of the novena, the feast of Our Lady of the Snows, Jimena was in tears after Communion.
But then, she said, "I opened my eyes, and I could see perfectly."
"I saw the altar, the tabernacle, my friends were there and I could see them perfectly."
"The Virgin has given me a huge gift that I'll never forget," Jimena said.
Cardinal Juan José Omella, president of the Spanish bishops conference, spoke about the possible healing at a press conference concluding the WYD, saying he'd had a chance to speak with Jimena on a video call.
ACI Prensa reported that the cardinal referred to it as a "grace of God," and noted how Jimena had been working to learn Braille.
"Let us say, a miracle. She didn't see, and now she sees. Afterward, the doctors can speak to the rest, but she's going back home able to see. Blessed be God."
FULL STORY
Was there a miracle in Fatima during Pope's visit? (By Kathleen Hattrup, Aleteia)