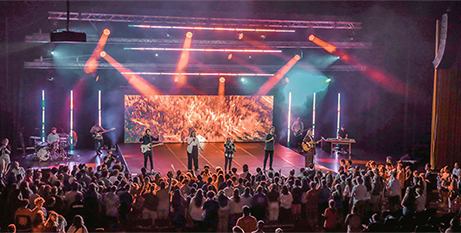 The Church in Australia is gearing up for the Ignite Conference, a national Catholic conference to be held at the end of September in Brisbane and Greater Sydney. Source: The Catholic Leader.
The Ignite Conference aims to be place of encounter, with something for everyone – from leaders to first-time believers.
This year, more than 80 national and international Catholic speakers will be presenting across the two conferences, including Brisbane Archbishop Mark Coleridge, Broken Bay Bishop Anthony Randazzo, Fr Rob Galea, Sam Clear, Missionaries of God's Love Sister Therese Mills and Brendan Malone.
The conference, which has the theme "Wonder", offers an opportunity to experience the Church fully alive in faith, through worship, sacraments, workshops and a ministries expo.
The Ignite Conference is run by Ignite Youth, the national youth ministry that springs out of the Emmanuel Community, Brisbane. It draws together a network of high-schoolers, young adults, ministry leaders, families, teachers, priests and religious from around the country, sending them out with a passion for mission and authentic faith in Jesus.
Ignite Conference will be held in Brisbane at St Laurence's College from September 21-24, and then in Greater Sydney at the Broken Bay Cathedral Precinct, Waitara, from September 28 to October 1.
Details: www.igniteconference.com.au.
FULL STORY
Ignite Conference 2023 will be an experience of 'wonder' (The Catholic Leader)