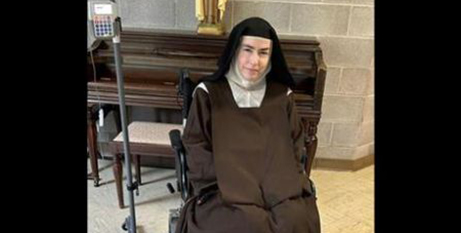 A Texas bishop says a Carmelite prioress and nuns at a local monastery may have excommunicated themselves by publishing a statement challenging his authority and banning him from setting foot on monastery grounds. Source: CNA.
In a statement published by the Diocese of Fort Worth on August 19, Bishop Michael Olson said that because the Monastery of the Most Holy Trinity's prioress, Mother Teresa Agnes Gerlach, "issued a public statement on the website of the Arlington Carmel by which she publicly rejected my authority as diocesan bishop and pontifical commissary," he felt compelled to "inform the faithful of the Diocese of Fort Worth that Mother Teresa Agnes, thereby, may have incurred upon herself latae sententiae, (i.e., by her own schismatic actions), excommunication."
Besides the prioress, Bishop Olson said that "depending on their complicity in Mother Teresa Agnes' publicly, scandalous, and schismatic actions", other nuns at the monastery "could possibly have incurred the same latae sententiae excommunication".
The monastery's statement referenced by Bishop Olson was published on Holy Trinity's website homepage on August 18. In it, the nuns declare themselves independent of Bishop Olson's authority and appear to want to cut all ties with the bishop.
This is the latest development in an increasingly bitter dispute between the Fort Worth bishop and nuns at the Most Holy Trinity Monastery in Arlington, Texas, over an alleged sexual affair between the prioress and a North Carolina priest, Fr Philip Johnson.
Bishop Olson first launched a canonical investigation into the affair in April and declared the prioress guilty of having violated the Sixth Commandment and her vow of chastity and dismissed her from religious life.
The monastery has denied Mother Teresa Agnes committed any wrongdoing and filed a civil suit against Bishop Olson for theft, defamation, and abuse of power. The suit was thrown out in court on June 30. After their case was dismissed, the monastery's attorney, Matthew Bobo, said they would be appealing.
FULL STORY
Bishop: Texas nuns may have excommunicated themselves with defiant letter (By Peter Pinedo, CNA)