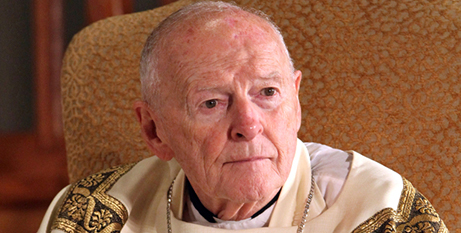 A judge has ruled that former cardinal Theodore McCarrick is not competent to stand trial on criminal sexual abuse charges in Massachusetts. Source: CNA.
The dismissal of the charges on Wednesday follows separate examinations of Mr McCarrick's mental health by health professionals hired by both his and the state's legal teams, both of which concurred on his incompetence.
Mr McCarrick, 93, was charged with three counts of indecent assault and battery on a person over the age of 14 relating to allegations that he sexually abused a teenager who was a family friend at a wedding ceremony in the 1970s at Wellesley College in Wellesley, Massachusetts.
The charges in Dedham were the first criminal charges that McCarrick has ever faced following several accusations of sexual abuse of minors and seminarians, which led to his removal from the clerical state in 2019.
However, criminal sexual assault charges filed against Mr McCarrick in Wisconsin in April are still pending, as are a number of civil lawsuits.
In a statement filed with the court dated yesterday, Mr McCarrick's accuser, whom CathNews has chosen not to identify, accused the former cardinal's legal team of "coaching" the former prelate for the psychiatrist's interviews.
"His defence attorneys seem to have run out of continuances to delay the proceedings further, so they moved on to the competency issues," he wrote.
"Only they and Mr McCarrick know the extent of the coaching to prepare him for his two interviews. If McCarrick is found incompetent, they will have won and justice will have lost."
FULL STORY
McCarrick's alleged victim 'left with nothing' after ex-prelate ruled incompetent to face trial (By Joseph Bukuras, CNA)
RELATED COVERAGE
Judge dismisses criminal abuse charges against former cardinal Theodore McCarrick (OSV News)