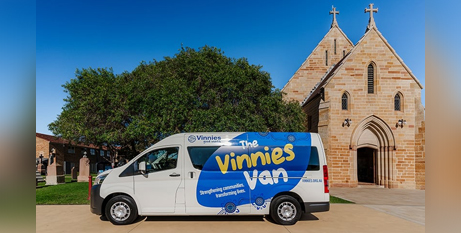 Every month for years, Verbum Dei Missionary priest Fr Greg Morgan has swapped his chasuble for a hi-vis vest and got behind the wheel of one of Sydney's Vinnies Vans. Source: The Catholic Weekly.
Now his parish of Ryde-Gladesville have started their very own Vinnies Van service to bring food, toiletries, clothing and conversation to people who are doing it tough.
Parishioners raised more than $160,000 to purchase and fit out two vans, one for the parish and another for a neighbouring conference, with the encouragement of Gladesville St Vincent de Paul conference president Anna Alessi and Fr Morgan.
Fr Morgan said he was thrilled at the interest among parishioners from children to the elderly, whether in preparing the food or toiletries packs, or driving and spending time with the people who access the service at the designated stops.
"More than the food or blankets and beanies we give out, it's about the conversation we make time for at each stop," he explained.
"Many people need to feel that we want to be there for them."
Vinnies Van manager Josie Charbel said the Ryde-Gladesville service will be one of many new Vinnies Vans runs across New South Wales.
Previously only providing meals for the homeless and disadvantaged at several locations across the Sydney and Broken Bay metropolitan regions, the service has added six new runs in regional areas such as Coffs Harbour, Lismore and Bathurst.
In Sydney they have also been requested in richer suburbs, like Hunters Hill and Balmain, showing how deep the cost-of-living crisis is biting.
Vinnies Vans may also now offer much more than a meal — including GP, dental, podiatry and mental health services, crisis accommodation and advocacy —and some also operate during the day, effectively doubling the much-needed outreach.
FULL STORY
New Vinnies Van for NSW as cost of living crisis bites harder (By Marilyn Rodrigues, The Catholic Weekly)