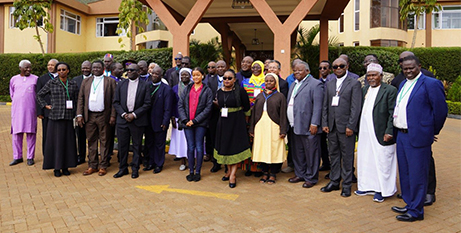 Catholic bishops and other faith leaders in Africa are calling for debt relief for the continent to provide a "lifeline" to escape multiple crises, including food insecurity and climate change. Source: The Tablet.
The average cost of servicing external debt now consumes around 17 per cent of African government revenues, the most since 1999, with 25 countries severely hit. Alongside rampant inflation, the economic burden has frustrated development, swelled poverty and triggered protests in some of the countries, according to the leaders
They met in Nairobi last month to discuss sustainable development and support for Africa's recovery, particularly after the setback of the COVID-19 pandemic.
The gathering – hosted by Caritas Africa, the Jesuit Justice and Ecology Network and the Jubilee USA Network – was in advance of key international meetings involving finance ministers in September and the World Bank and IMF annual meetings in October.
Bishop John Obala Owaa of Ngong in Kenya read the leaders' statement on behalf of the Christians, Muslims and members of African traditional religions attending the Nairobi meeting.
"We urge the establishment of a debt reduction process that allows borrowers quickly to reduce debt payments to protect crucial development and climate investments," he said.
"Given that over 45 per cent of Africa's debt is held by private creditors, financial centres governing these contracts must pass laws ensuring these creditors participate in debt relief," he added.
In the 1990s, African faith leaders were among those who participated in the Jubilee Movement to push for "breaking the chains of debt" in developing countries, leading to the cancellation of some debt.
They argue that the "crippling burden of unsustainable debts persists" in African countries since the injustices of international and domestic finance systems have not been addressed.
FULL STORY
Bishops join African faith leaders in call for debt relief (by Ellen Teague, The Tablet)