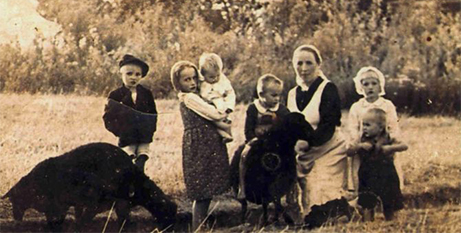 With a beatification Mass for the Ulma family set for Sunday, the Vatican emphasised that all nine members of the Polish family are considered martyrs, including the child who was born during the massacre. Source: OSV News.
In December, Pope Francis recognised the martyrdom of the entire family for having sheltered a Jewish family during World War II. Józef and Wiktoria Ulma and their seven children, including the child she had been carrying in utero, were killed by the Nazis along with the eight Jews they had taken in. The recognition of martyrdom cleared the way for all nine members of the Ulma family to be beatified.
However, with some news reports saying the beatification would mark the first time an unborn or pre-born child would be beatified, the Dicastery for the Causes of Saints issued a written clarification yesterday.
Wiktoria Ulma was in the final stage of pregnancy with her seventh child when she was killed, said the note, signed by the dicastery's prefect, Cardinal Marcello Semeraro, and secretary, Archbishop Fabio Fabene.
"This child had been born at the moment of the mother's martyrdom," it said, adding that the child was one of the seven children, who are also martyrs. "In fact, with the martyrdom of the parents, it received the baptism of blood."
The Catechism of the Catholic Church states: "The Church has always held the firm conviction that those who suffer death for the sake of the faith without having received baptism are baptised by their death for and with Christ. This baptism of blood, like the desire for baptism, brings about the fruits of baptism without being a sacrament."
"Even this child, as it was found in a common grave after the slaughter, was considered worthy of martyrdom," Cardinal Semeraro said, referring to eyewitness accounts by those who saw the bodies, that the child's head and chest were emerged from the mother.
Cardinal Semeraro will preside over the beatification Mass for the Ulma family on Sunday in Markowa, Poland.
FULL STORY
Vatican says Ulma child was born during mother's execution (OSV News)