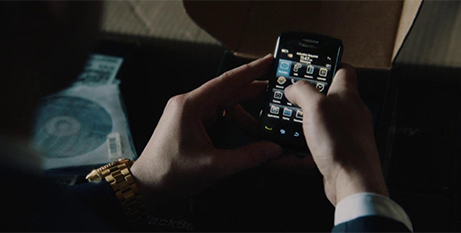 BlackBerry takes viewers back to the 1990s, offering a fictionalised story based on the rise and fall of the world's first smartphone. Source: Australian Catholics.
We may think of Microsoft's Bill Gates and Apple's Steve Jobs as the technological giants of that time. But, what about the BlackBerry? This Canadian comedy-drama fills in some of the blanks.
It focuses on a small company of IT developers, Research in Motion. The brains behind the enterprise is Mike Lazaridis, something of a nerd (Baruchel). Supporting him is his good friend, Doug Fregin, played by Matt Johnson, who co-wrote the screenplay and directed the film.
In the 1990s they were working on IT phone developments which led to the BlackBerry. Mike is serious, Doug acts as spur and spokesman. What are they to do with their invention and the need for financial support?
The focus of the film then moves to business, promotion, contracts, especially focusing on Jim Balsillie (Howerton), an ambitious self-promoter who is less than honest in his dealings within his company. After being fired he seeks out Mike and Doug – with significant, and dire, results. Jim is a powerhouse, pressurising and manoeuvring Mike, being hostile to Doug, wheeling and dealing with big American .
Interestingly, there is scarcely a woman to be seen in this film – a worker at Research in Motion and a government investigator. There is no back story given of any of the central characters.
The story of the company's rise is exhilarating as well as comic. After which comes the fall – Jim's ambitions are larger than he can achieve and his dealings catch up.
BlackBerry is a dramatic reminder of technology that has influenced our daily lives – stooping over our phones and a realisation that they are indispensable for contemporary living.
Review by Fr Peter Malone MSC, Jesuit Media
BlackBerry: Starring Jay Baruchel, Glenn Howerton, Matt Johnson, Martin Donovan, Saul Rubinek. Directed by Matt Johnson. 118 minutes. Rated M (Coarse language).
FULL REVIEW
BlackBerry (Jesuit Media via Australian Catholics)