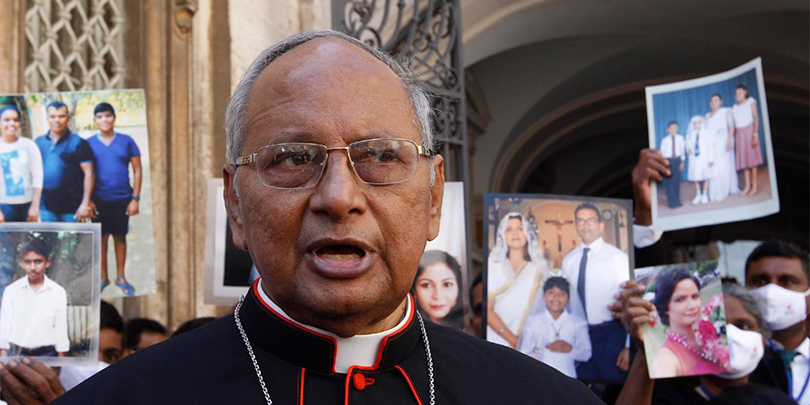 Sri Lankan Cardinal Malcolm Ranjith has called for an international probe into the 2019 Easter bombings after a UK-based broadcaster claimed the country's worst-ever terror attack was an inside job by the government. Source: UCA News.
In a documentary by Channel 4 broadcast on Tuesday, Azad Maulana, a former spokesman of a breakaway Tamil Tiger rebel group that helped the Government win the country's bitter civil war in 2009, alleged that top military intelligence figures met the bombers before the attacks on two Catholic churches and luxury hotels that killed 269 people and injured more than 500. Among those killed were 45 foreigners.
Mr Maulana claimed that the meeting took place in the eastern part of the country and that he was present when one of the bombers, Zahran Hashim, and the head of the State Intelligence Service, Major General Suresh Sallay, interacted.
"We have been asking for international investigations in light of the fact that whatever has been done has not produced a transparent and clear picture of what happened on that Easter Sunday," Cardinal Ranjith said.
"Unless a transparent and sincere investigation is launched, we do not feel that truth and justice will be meted out to the innocent victims," the 75-year-old cardinal said on Wednesday.
Hours after the documentary aired, a United Nations human rights report released by the Sri Lankan Office of the High Commissioner also renewed its call for an investigation into the Easter bombings.
Soon after assuming power as acting president following riots in July 2022, Ranil Wickremesinghe promised a fresh probe with the support of the British government, involving Scotland Yard, into the coordinated suicide bombings on Easter Sunday morning.
On Wednesday, the government said it would set up a parliamentary panel to probe the allegations made by the documentary.
FULL STORY
Sri Lankan cardinal wants international Easter bombings probe (UCA News)