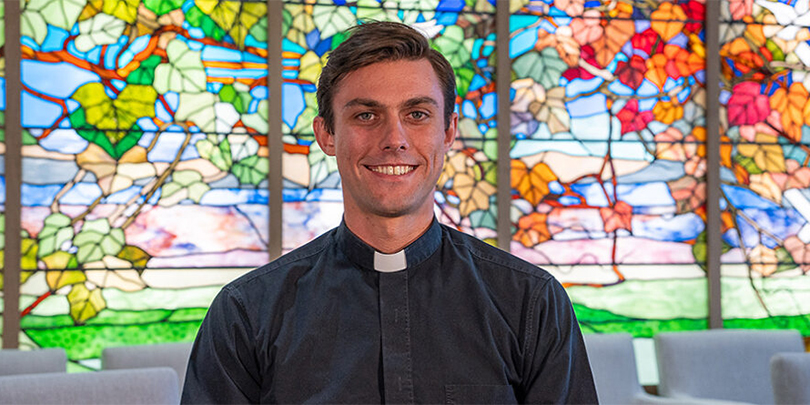 "I want to love like the Lord loves." Parramatta Deacon Tom Green says these words will steer his ministry as he prepares for his ordination to the priesthood tomorrow. Source: Catholic Outlook. 
Parramatta Bishop Vincent Long OFM Conv will ordain Deacon Green at 7.30pm tomorrow at St Patrick's Cathedral, Parramatta, in front of hundreds of family, friends and parishioners from across the Diocese and beyond.
"I'm feeling quite settled at the moment," Deacon Green said last week.
"These past few weeks have been a good opportunity for me to focus on the most important thing, which is my relationship with God, the significance of the ordination and realising what this gift of the priesthood is that He has given me.
"I have been filled with gratitude, but I also acknowledge that I am unworthy. But I know that God's calling me to trust in him, which is keeping me calm."
Growing up in the Blue Mountains as the fourth of five children, Deacon Green attended public primary and secondary school and would go to Mass every Sunday with his family.
When Deacon Green was in high school, he got his first inkling of wanting to live a life dedicated to the Church.
"None of my friends in high school were Catholic, and they had many challenging views and full of confidence in their own worldviews. So, I went to find out for myself if what they were saying was true," he explains.
"One of the first things I did was go to the library at the back of the church and picked up the biography of St John Vianney.
"I was really captured by this man and his love of the Lord, his service of the people and his radical dedication to Christ and His Church. I think that put this idea of the priesthood into my heart."
Deacon Green's ordination ceremony will be livestreamed on the St Patrick's Cathedral YouTube channel.
FULL STORY
Gentle Tom guided by God on path to priesthood (By Mary Brazell, Catholic Outlook)