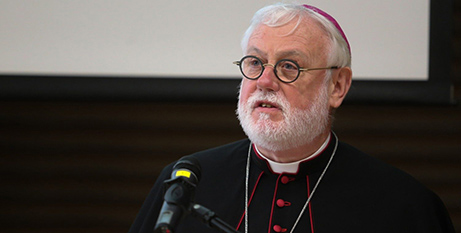 A top Vatican official says the Holy See welcomes any initiative for peace in the Holy Land because it "is firmly convinced that peace between Israelis and Palestinians, and in the region more generally, would benefit the entire international community". Source: Vatican News.
At the same time, Archbishop Paul Gallagher, the Vatican's Secretary for Relations with States and International Organisations, emphasised that any peace initiative must both protect the local populations and provide for the legitimate concerns of the various parties.
Speaking at a meeting during the General Assembly of the United Nations, Archbishop Gallagher noted the Holy See's priorities with regard to the Holy Land, especially the existence of the Holy Places related to the life of Jesus, which have been entrusted for almost 800 years to the Custody of the Friars Minor; and the continuous presence of a Christian community for 2000 years.
After recalling the Holy See's efforts in support of a "two-state solution", Archbishop Gallagher highlighted the question of the administration of the city of Jerusalem. Recognised as a Holy City by Jews, Muslims, and Christians, Jerusalem can be a "place of encounter" where all can live together "with respect and mutual goodwill".
He recalled the 2014 meeting in the Vatican between then-Israeli president Shimon Peres and Palestinian President Mahmoud Abbas, noting that there have not been any further meetings since the two leaders, together with Pope Francis, planted an olive tree, representing the hope for peace in the Vatican gardens.
"Nevertheless," he concluded, "we continue to water that olive tree, waiting for the presidents of both states, accompanied by their governments, to come again to reap the fruits of peace."
FULL STORY
UN General Assembly: Holy See welcomes initiatives for peace in Holy Land (By Christopher Wells, Vatican News)