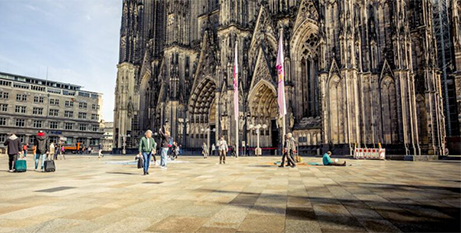 Several hundred people gathered near the cathedral in Cologne, Germany, to hold a blessing service for LGBTQ+ people and people who remarried after a divorce, while those protesting the service prayed the Rosary nearby. Source: Angelus News.
A carpet of flowers in the shape of a heart was laid in front of an altar. According to police, about 600 people attended the service, held under the motto "All you need is love."
It was conducted by 19 Catholic priests and pastoral ministers, 16 of whom were from the Archdiocese of Cologne. In addition, a choir of 120 singers in colourful sweaters provided musical accompaniment to the service.
The event was held in reaction to the reprimand of a priest from the archdiocese who celebrated the first such service in the town of Mettmann in March.
Officials from the Cologne Archdiocese, which includes Mettmann, had reprimanded the priest and stressed that the Vatican doesn't allow blessings of same-sex couples, German news agency dpa reported, according to The Associated Press.
The celebration in Cologne was timed to coincide with the anniversary of Cardinal Rainer Maria Woelki's installation as archbishop in Cologne in 2014 and was seen as an event in defiance of the German cardinal-archbishop.
Some 20 people gathered on the sidelines of the service and held a counter-protest by praying the rosary, a demonstration called for by the German Society for the Protection of Tradition, Family and Property. They held up a banner that said, "Let's stay Catholic." They were in turn opposed by 70 to 80 members of the Cologne Antifa movement of left-wing activists. The police kept the groups apart.
FULL STORY
Catholic priests defy archdiocese, bless same-sex couples in Germany (OSV News via Angelus News).