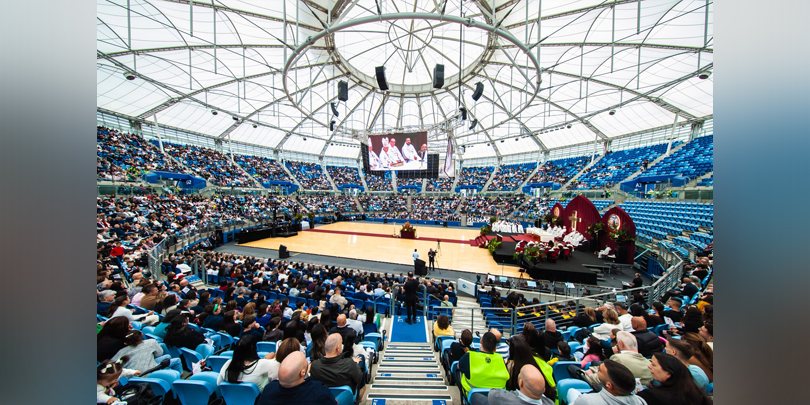 Ken Rosewall Arena at Sydney Olympic Park was transformed into a cathedral filled with people of every age and state in life for a Mass to mark 50 years of the Maronite Eparchy in Australia, New Zealand and Oceania. Source: The Catholic Weekly.
At the invitation of Maronite Eparchy Bishop Antoine-Charbel Tarabay, abount 10,000 Maronite Catholics gathered with their patriarch, His Beatitude Mar Bechara Boutros Cardinal Rai, for the Divine Liturgy on Sunday.
It was the high point of the eparchy's golden jubilee celebrations, launched by Bishop Tarabay on the feast of St Maroun on February 9.
Thanking his brother bishops – who included the Apostolic Nuncio to Australia Archbishop Charles Balvo and Sydney Archbishop Anthony Fisher OP – for their presence, Cardinal Rai said it was "a testament to the unity and communion that bind us together as one Body of Christ".
"As we gather to celebrate this significant milestone in the life of this eparchy, we are reminded of the faith and perseverance that have marked our Maronite community's journey in this great land," Cardinal Rai said in English before his homily.
"It is a time not only to look back with gratitude for the past 50 years but also to look forward with hope to the future."
In his homily, delivered in Arabic, the patriarch thanked the Maronite Eparchy for its support of Lebanon in its present suffering through financial, medical and food donations as well as through social enterprises.
He contrasted the freedoms and blessings enjoyed by the Lebanese diaspora in Australia with the heartbreaking situation of many in their homeland, undergoing crippling economic, political and social crises.
Present for the two-hour long Mass in Arabic and English were about 20 bishops of the Eastern and Latin churches, including bishops of other Maronite eparchies worldwide, leaders of Maronite religious orders, and dozens more priests and religious.
FULL STORY
Maronite Patriarch's visit turns stadium into cathedral for Golden Jubilee (By Marilyn Rodrigues, The Catholic Weekly)