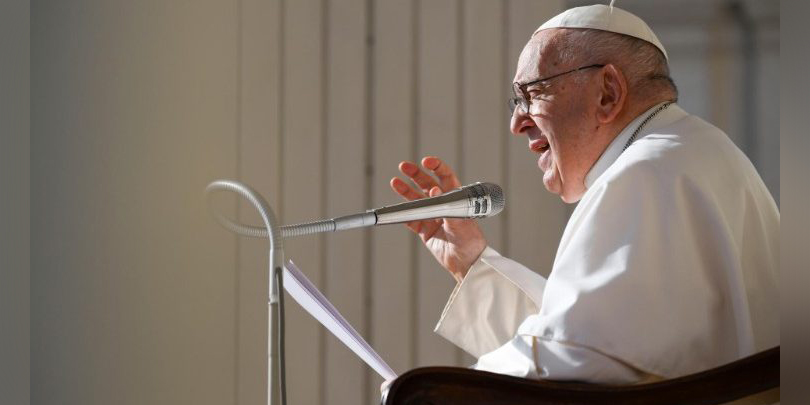 Pope Francis has addressed issues surrounding the authority of the Synod on Synodality, women's ordination and blessing homosexual unions in a response to a "dubia" letter sent to him by five cardinals seeking clarification on doctrinal questions. Source OSV News.
In pursuit of "pastoral prudence", the Church should discern if there are ways of giving blessings to homosexual persons that do not alter its teaching on marriage, Pope Francis said in a letter made public yesterday.
Marriage is an "exclusive, stable and indissoluble union between a man and a woman, naturally open to conceiving children," wrote the Pope. "For this reason, the Church avoids all kinds of rites or sacramentals that could contradict this conviction and imply that it is recognising as a marriage something that is not."
But pastoral charity also is necessary, and "defence of the objective truth is not the only expression of that charity, which is also made up of kindness, patience, understanding, tenderness, encouragement," he added. "For that reason, pastoral prudence must adequately discern if there are forms of blessing, solicited by one or various persons, that don't transmit a mistaken concept of marriage."
The Pope's comments came in response to a dubia letter dated July 10 seeking clarification on doctrinal questions written by five retired cardinals: Cardinal Raymond Burke, Cardinal Walter Brandmüller, Cardinal Juan Sandoval Íñiguez, Cardinal Robert Sarah and Cardinal Joseph Zen.
The Pope's response is dated July 11, but it was made public on the website of the Dicastery for the Doctrine of the Faith yesterday after the cardinals released a follow-up letter. They had given the Pope the second letter on August 21 with rephrased questions to solicit "yes" or "no" answers but did not receive a response from the Pope.
The cardinals also asked about women's ordination and if synodality could form part of the Church's governing structures.
"Nobody can publicly contradict" the Church's rules prohibiting women's ordination, the Pope wrote, "however it can be a subject of study, as is the case with the validity of ordinations in the Anglican Communion."
He said synodality "as a style and energy, is an essential dimension in the life of the Church".
FULL STORY
Pope responds to cardinals on blessings for homosexuals, female priests (By Justin McLellan, CNS via OSV News)
Pope Francis responds to dubia submitted by five cardinals (Vatican News)