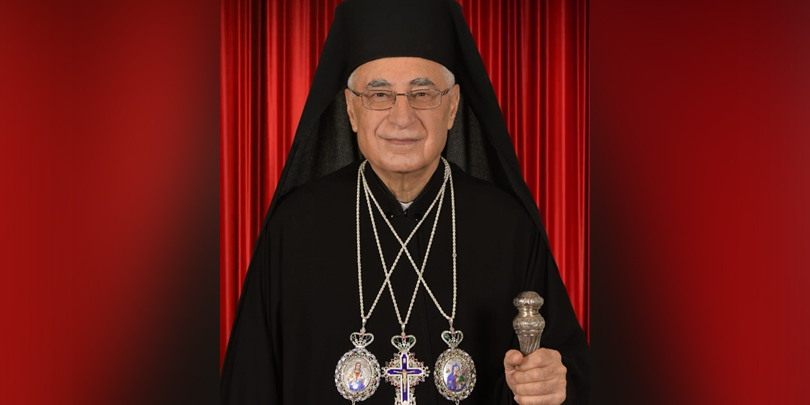 Melkite Patriarch Joseph Absi will visit Australia and New Zealand in November and December at the invitation of the Pontifical Foundation, Aid to the Church in Need.
Patriarch Absi, who is Patriarch of Antioch, Alexandria, Jerusalem, and all the East, has primarily been invited as one of the guest speakers at ACN's Night of the Witnesses event at St Patrick's Cathedral in Melbourne on November 22.
Ahead of his visit, Patriarch Absi said Christians in the Middle East are continuing to leave their homelands despite the Church encouraging them to remain.
He said that it is increasingly difficult to give hope to Christians in Syria and Lebanon, where most of his faithful live, and the young are particularly likely to leave.
The past six years have been a difficult period with the civil war in Syria, the pandemic and extreme economic hardship in both Syria and Lebanon.
Patriarch Absi said the faithful "are desperate" and "they no longer have confidence in their country."
"There is no light at the end of the tunnel, we do not see a short-term solution. Without support, we can no longer convince them to stay."
Patriarch Absi will be joined at Night of the Witnesses by Dominican Sister Majella Dogonyaro from Northern Nigeria, and Xavier Bisits, ACN's head of projects for the Middle East.
The night will be an evening of testimony, prayer and reflection honouring the courage and fidelity of recently martyred Christians.
Announcing the guests, ACN national director Bernard Toutounji said, "We are overjoyed that these fellow Christians will make the long journey to share with us their experiences and lives of witnesses.
"In our countries, where we mostly live the faith with such casualness, it can only benefit us to hear from those who very deliberately need to choose their faith every day."
In addition to Melbourne, the three speakers will speak in Brisbane, Perth, Auckland and Sydney in November and December.
Details: visit www.aidtochurch.org/2023tour.
FULL STORY
Melkite Patriarch tours Australia & New Zealand as exodus threatens future of Christianity (ACN)