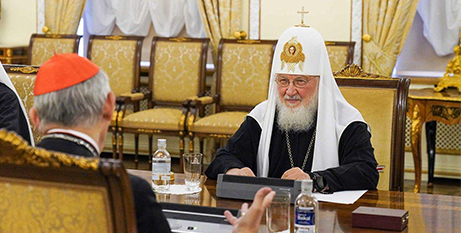 The Ukrainian Parliament has advanced legislation widely seen as an attempt to ban an Orthodox church from the country over allegations that it is linked to Russia. Source: CNA.
The Verkhovna Rada, Ukraine's unicameral legislative body, passed the bill through its first reading last week with 267 lawmakers in favour of the proposal and only 15 voting against it.
Legislation in the Rada generally must pass through three readings and then be signed by the country's president to become law.
The law would forbid activities of religious organisations "that are affiliated with the centres of influence of a religious organisation, the management centre of which is located outside of Ukraine in a state that carries out armed aggression against Ukraine." It is widely seen as targeting the Ukrainian Orthodox Church of the Moscow Patriarchate (UOC).
Member of Parliament Iryna Herashchenko, who belongs to the centre-right European Solidarity Party, referred to the vote as "historic" in a video message, according to The Kyiv Independent website. She claimed that the vote was about Russian influence rather than religion.
"[The legislation] is not about religion or church but about protecting the national security of Ukraine," she claimed. "It's about the fact that the church, which has a metropolis in Moscow, is not really a church but a branch of the [Russian Federal Security Service] and it can be banned in court."
Last week, Patriarch Kirill of the Russian Orthodox Church condemned the vote, saying that it "puts the Ukrainian state on a par with the most sinister atheistic regimes of the past."
The 2023 Religious Freedom in the World report, published by Aid to the Church in Need, added both Ukraine and Russia to the list of countries that it is closely monitoring for religious freedom violations.
FULLS TORY
Ukraine Parliament advances bill seen to ban Russia-linked Orthodox church from country (By Tyler Arnold, CNA)