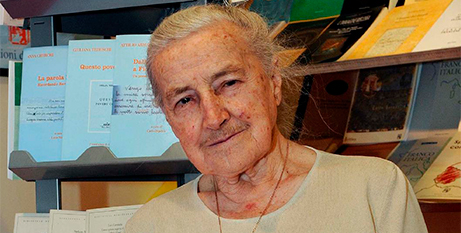 Wanda Półtawska, Polish psychiatrist, wife and mother of four, survivor of Ravensbrück Nazi concentration camp and a close friend of St John Paul II, died on Tuesday in Krakow aged 101. Source: OSV News.
She dedicated her life and career to fight for marriages and unborn children — a battle she would pursue with and for Karol Wojtyła. He signed letters to her as "Brother." She would talk to him daily on the phone when he became Pope John Paul II and was at his deathbed.
"Dusia," as John Paul would call her, and then-Father Wojtyła, a parish priest, met in 1953. She went to confession and was mesmerised by how he pointed directly to her needs. At the time, still haunted by the horrors of World War II, she needed spiritual advice and guidance.
Originally from Lublin in eastern Poland, she was a member of the Polish underground that fought the Nazi terror during World War II. She was caught by the Germans, put in a Lublin prison, tortured and moved to Ravensbrück concentration camp where she became a subject of medical experiments of the Nazis.
She married a Polish philosopher, Andrzej Półtawska, in 1947, and graduated with a medical degree in 1951. In October 1962, already the mother of four young girls, she got a devastating diagnosis: colon cancer. She knew she might not survive the operation and was ready to die.
Then-Bishop Wojtyła was in Rome for the Second Vatican Council and wrote in a letter to his "sister" friend: "Dusia, I want to mobilise you, as much as I can, to fight for your health and life."
He sent another letter — to a famous Capuchin in San Giovanni Rotondo, Padre Pio.
Bishop Wojtyła's letter to Padre Pio was sent the day Ms Półtawska had her first medical screening before surgery. On the day of the planned operation, shocked doctors informed her there was nothing to operate on.
Ms Półtawska dedicated her time to saving marriages and women after abortion, running an Institute of Theology of the Family at the Pontifical Faculty of Theology in Krakow.
FULL STORY
Wanda Półtawska, St. John Paul II's soulmate and adviser, dies at 101 (By Paulina Guzik, OSV News)