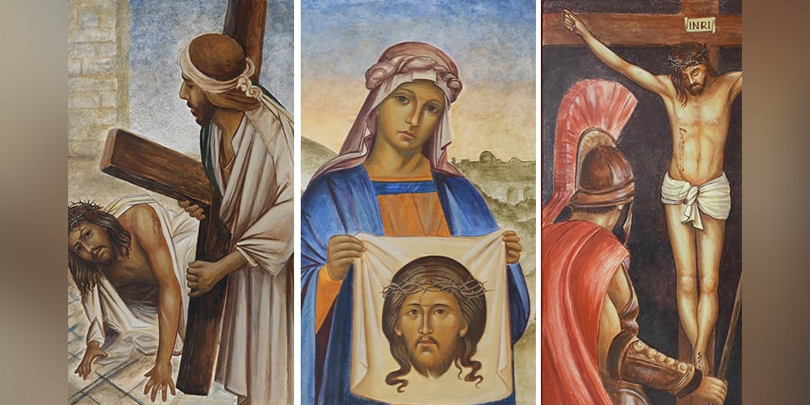 The Sts Peter and Paul's Old Cathedral in Goulburn has unveiled a new collection of icons known as the "Way of the Family" ahead of its inaugural fundraising gala. Source: The Catholic Weekly.
The gala Mass and lunch on November 18 will come a year after the cathedral's 40-year restoration was completed and celebrates the feast of the dedication of the Basilicas of Saints Peter and Paul.
The Way of the Family includes 10 icons, beginning with Christ's washing the feet of the disciples and moving into his journey to the resurrection.
Queanbeyan parish priest Fr Tony Percy said the commissioned artworks have arrived in time for the Mass and lunch to highlight the family focus of the Catholic faith.
"It takes some of the mysteries in an around Christ's life, passion, death and resurrection, and they try to help people see the beauty and the challenge of marriage and family as it is applied to these mysteries, helping people to be renewed in their marriage and their family life," he said.
An audio tour accompanying the icons has also been published on SoundCloud for listeners to follow, setting the scene for reflection around St John Paul II's understanding that "the future of humanity passes by way of the family".
"People can see [and hear] how each of those scenes of Christ's life related to marriage and family life, because it is under so much pressure at the moment," Fr Percy said.
In keeping with the family focus, the artworks have been placed around the cathedral's statue of Mary, Protectress of Families, commissioned in 1994 for the year of the family.
FULL STORY
Goulburn's Old Cathedral unveils 'Way of the Family' icons to cap off 40-year restoration (By George Al-Akiki, The Catholic Weekly)