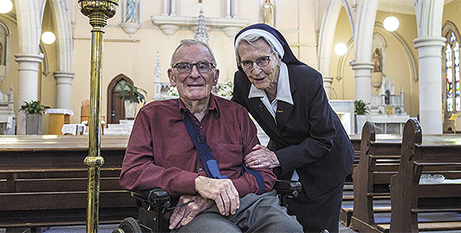 Labor luminary and former governor-general Bill Hayden was farewelled by family, friends and political heavyweights at a state Funeral Mass at St Mary's Church, Ipswich, on Friday. Source: The Catholic Leader.
Brisbane Archbishop Mark Coleridge celebrated the Funeral Mass with Ipswich parish priest Franciscan Father Stephen Bliss, Brisbane Archdiocese's vicar for administration Fr Peter Dillon and Tasmania-based Fr Michael Tate concelebrating.
Mr Hayden is survived by his wife of 63 years, Dallas, and three of their four children, Georgina, Kirk and Ingrid.
Also there were former governors-general Quentin Bryce and Peter Cosgrove, Queensland Premier Annastacia Palaszczuk, politicians Jim Chalmers, Wayne Swan, Pauline Hanson, Cameron Dick and Milton Dick.
Mercy Sister Angela Mary Doyle, Prime Minister Anthony Albanese and former prime minister Paul Keating spoke at the funeral Mass.
In his homily, Fr Bliss said Mr Hayden was a "true advocate for the poor and marginalised, dedicating his life to providing essential services to the people of Australia".
He spoke about Mr Hayden's conversion from atheism to Catholicism later in life and how he went to God not heralded by a long list of credentials and titles, but as a "son of God".
"Bill went to God with a clear mind, knowing he was loved by his family and others, realising as a human and a sinner, he will be judged by the same criteria all of us will be judged.
"The criteria Jesus speaks about in the gospel today.
"It's on this basis, on that criteria, that we are filled with so much hope today.
"Because Bill was a man of faith who took that criteria seriously – to extend love to others in a real and tangible way.
"If we can do that in public office, if we can do that in church, if we can do that in family life, our world is going to be a better place."
Mr Hayden was baptised as a Catholic at the age of 85 after a lifetime as a declared atheist.
FULL STORY
Bill Hayden remembered as a 'son of God' whose public life attested to Jesus' love for the poor (By Joe Higgins, The Catholic Leader)