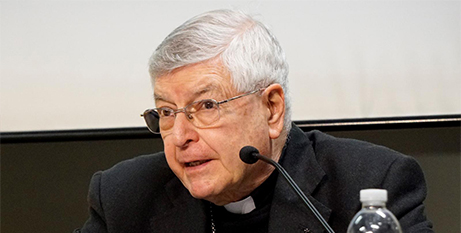 A top adviser to Pope Francis on matters involving canon law has denied reports the Pope had asked him to draft revisions to the rules governing the preparations for electing a new pope. Source: OSV News.
"I confirm my denial and have nothing else to add," Cardinal Gianfranco Ghirlanda told CNS on Monday.
Matteo Bruni, director of the Vatican press office, told CNS, "As far as I know, no revision is being worked on."
The Pillar website reported on Saturday that its "sources close to the Vatican's Secretariat of State" had said Cardinal Ghirlanda was asked to draft revised rules for the "general congregations" — meetings of cardinals — that take place in the days before a conclave.
While the general congregations deal with some practical matters needing attention between the death or resignation of a pope and the election of a new one, the main purpose is for the cardinals to share views about the state of the Church and the qualities needed in the next pope. The general congregations take place behind closed doors with all participants taking a vow of secrecy.
The rules outlining what happens with the death of a pope and for the general congregations and the conclave to elect a new pope are spelled out in St John Paul II's 1996 apostolic constitution Universi Dominici Gregis, and the revisions made to it by Pope Benedict XVI in 2007 and just before his resignation in 2013. Only a pope could promulgate changes to the rules.
Cardinal Ghirlanda told a number of news outlets that the stories that he is working on revisions to Universi Dominici Gregis are untrue.
FULL STORY
Cardinal denies working on changes to procedures for papal elections (By Cindy Wooden, CNS via OSV News)