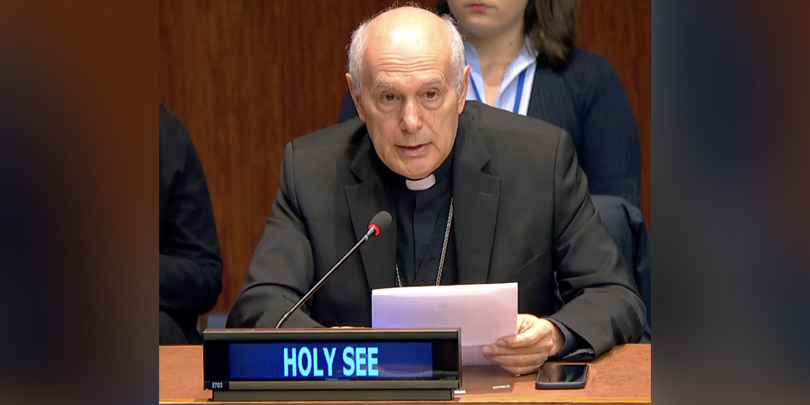 Calling for the protection of civilians in Gaza and a just peace, the Holy See's Permanent Observer to the United Nations decried the "unprecedented escalation of violence in Israel and Palestine, resulting in deplorable levels of suffering". Source: Vatican News. 
Archbishop Gabriele Caccia was addressing the UN General Assembly in New York on Monday on the humanitarian situation in Gaza.
He reiterated that the Holy See denounced the Hamas terrorist attack on Israel on October 7, which killed 1400 people. Apart from those who lost their lives, many others were wounded and taken hostage by the militants.
In the month since then, retaliatory attacks by the Israeli army on the Gaza Strip where Hamas has infrastructure have resulted in the brutal killing of more than 10,000 people.
Renewing Pope Francis' appeal, Archbishop Caccia solicited for the immediate release of those held hostage and called for a ceasefire.
As the Pope has clearly stated, the Apostolic Nuncio said, "terrorism and extremism fuel hatred, violence and revenge, and only cause mutual suffering".
Archbishop Caccia expressed sorrow at the terrible state of affairs in the Gaza Strip on humanitarian matters and decried the loss of innocent Palestinian lives as well as "the displacement of hundreds of thousands of people, and the indiscriminate suffering of the population," which has been deprived of basic needs.
"As in any conflict," said the Vatican's representative to the UN, "the Holy See calls for the absolute protection of each and every civilian."
"It is imperative that hospitals and medical facilities, refugee camps, schools, as well as places of worship and their premises, are not targeted by anyone," he added.
The Apostolic Nuncio reiterated Pope Francis' appeal for a ceasefire.
"I beg you to stop: cease using weapons," Archbishop Caccia said.
FULL STORY
Holy See calls for 'just peace' in Israel and Palestine (By Sr Titilayo Aduloju SSMA, Vatican News)