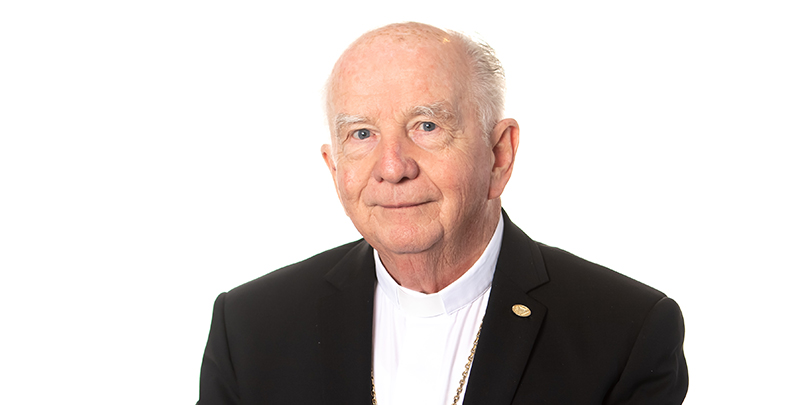 The Vatican has appointed former Toowoomba Bishop Robert McGuckin to investigate a little-known Catholic group in Christchurch, following allegations of spiritual and psychological abuse and unauthorised exorcisms. Source: Newshub.
The emeritus bishop has been sent to New Zealand to interview complainants as a representative of the Pope.
The move follows a months-long Newshub investigation, where 17 people spoke of their concerns about leaders of the group, known as the Sons of the Most Holy Redeemer.
Bishop McGuckin, a canon law expert, will interview various parties linked to the Sons of The Most Holy Redeemer, including those who left the group citing serious concerns.
The Sons, also known as the Transalpine Redemptorists, is run by Fathers Michael and Anthony Mary.
The investigation revealed concerns about their teachings and manipulative behaviour, claims they interfered in family life, and that multiple unauthorised exorcisms, including on young people, were carried out. The leaders deny any wrongdoing.
They now face international scrutiny in a move initiated by new Christchurch Bishop Michael Gielen.
In a statement, Bishop Gielen said the Holy See has appointed Bishop McGuckin to investigate.
"I sought the guidance of the Holy See," Bishop Geilen said.
"In response to this, the Holy See initiated an apostolic visitation and appointed Most Reverend Robert McGuckin, bishop emeritus of Toowoomba, as apostolic visitor.
"The apostolic visitor is appointed to act as a papal representative tasked with reviewing circumstances identified by the Holy See."
FULL STORY
Vatican orders investigation into Christchurch Catholic group over allegations of abuse, unauthorised exorcisms (By Michael Morrah, Newshub)