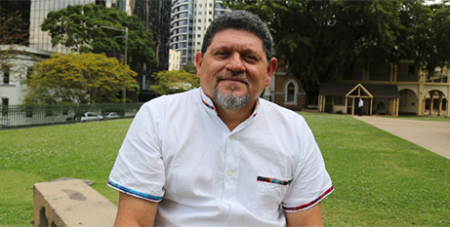 Alfredo Barahona has a message to Australian Catholics as the Church navigates a path of reconciliation with First Nations peoples: Let's practise what we preach. Source: The Catholic Leader
"We preach compassion, we preach forgiveness, we preach truth – so let's practice it," Mr Barahona, an indigenous descendant from central America and a truth-telling and healing expert, said.
He's in Australia to support the Australian Blanket Exercise – a project that helps the wider community understand the painful history of First Nations peoples.
Mr Barahona was also a guest panellist at the Laurel Blow Speaker Series held at Australian Catholic University's Banyo campus in Brisbane on October 6, appearing with First Nations Canadian Connor Sarazin (via video link), and Queensland Indigenous Catholic educator Thelma Parker, who now works for Reconciliation Australia developing truth-telling programs across the country.
Facilitated by Brisbane Archbishop Mark Coleridge, the panel explored how healing can be achieved between First Nations peoples and the wider community by sharing the often-painful history and impacts of colonialism.
Optimistic about the prospect of reconciliation with First Nations peoples, Ms Parker, a Warluarra and Kalkadoon woman, said there is still healing that needed to take place, but "collectively we could do this together".
"For us, our healing is a big part of who we are. Our healing provides strength so we can keep on continuing to tell the truth of what has gone on."
FULL STORY
Reconciliation experts identify truth-telling as key to healing (By Mark Bowling, The Catholic Leader)