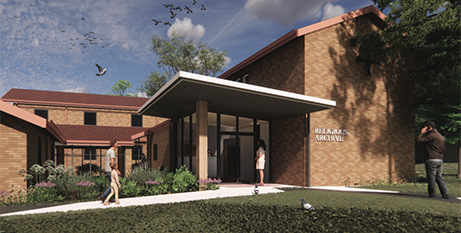 The archives of five Australian religious congregations have found a permanent home in Melbourne as part of an initiative to collect and store valuable materials for future generations. Source: Melbourne Catholic
Five congregations – the Brigidine Sisters, Presentation Sisters of Victoria, Faithful Companions of Jesus, Family Care Sisters and Missionary Sisters of Service (MSS) – together with the University of Divinity, will be part of the initiative to create an archive centre in Box Hill, in Melbourne's east. There will be room available for other religious organisations to join and have their archive cared for, too.
The Australian Religious Archive, which will be cared for and managed by the University of Divinity, is designed to hold the story, history and legacy of religious congregations and other religious groups who have made significant contributions to both civic and Church life in Australia and beyond.
Renovations to the existing Franciscan Friars site on Albion Road, where the University of Divinity is situated, are set to commence in 2023, to create a major facility with a variety of rooms to store and protect archives, along with public spaces for display and research purposes in the future.
Speaking on behalf of the Franciscan Friars of Melbourne, Provincial Phillip Miscamble says the friars are delighted to welcome the Australian Religious Archive to their St Paschal Estate.
"It will add a great resource for future academic research, housed within the University of Divinity," he says.
Presentation Sisters congregational leader Sr Helen Carboon said she appreciated the collaborative nature of the archive.
"It reflects the way congregations like ours have always worked: looking for new possibilities and working with others to achieve what we could not do alone," Sr Helen said.
The facility is likely to open for operations in late 2023.
FULL STORY
Australian Religious Archive: celebrating story and history (By Fiona Basile, Melbourne Catholic)