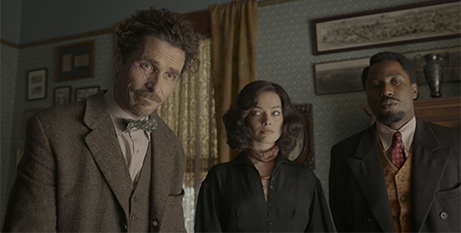 In Amsterdam, three close friends witness a murder and are framed for it, in a plot that is loosely based on a true story. Source: Australian Catholics
This American mystery film is loosely based on a 1933 plot to overthrow United States president Franklin D Roosevelt and replace him with a dictator.
Director David O Russell intentionally gives the film a broad, comic-historical sweep. It is directed in dark style, mixing drama and history with humour, and pointedly projects trust as a rare commodity in the environment that the film creates.
Amsterdam follows three friends – doctor Burt (Bale), nurse Valerie (Robbie) and legal attorney Harold (Washington), who witness a murder and are then falsely accused.
The friends seek the truth behind the gruesome crime and eventually track down a man (De Niro) who gives them answers that help them understand their predicament, but which also put his own life at risk. De Niro is the instrument to viewer-understanding of the Fascist plot that aimed to supply "proper" leadership to the world. Everyone seemed desperate – foe and friend alike – to avoid another war like the one that had just occurred.
The film itself has aroused a considerable amount of controversy. Its ending is visually and conceptually confronting, and there are known accusations of inappropriate conduct associated with persons who were involved in the production of the movie.
Review by Peter W Sheehan, Jesuit Media
Amsterdam: Starring: Christian Bale, Margot Robbie, John David Washington, Taylor Swift and Robert De Niro. Also, Anya Taylor-Joy. Directed by David O Russell. Rated MA15+. Restricted. (Strong injury detail and occasional drug use).134 min.
FULL REVIEW
Amsterdam (Jesuit Media, via Australian Catholics)