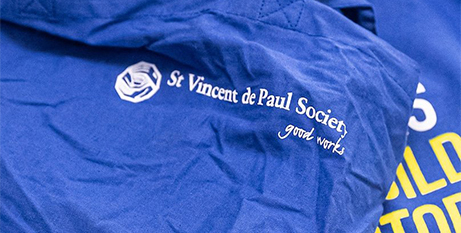 Crowdfunding giant GoFundMe has announced a ground-breaking partnership with the St Vincent de Paul Society NSW to assist with the rising cost of living. Source: The Catholic Weekly
GoFundMe's year-on-year data reveals a 183 per cent increase in the number of fundraisers referencing Australia's rental or housing crisis, which is being blamed for the huge numbers of people at crisis point.
GoFundMe regional director for Australia, Nicola Britton, said the platform had seen a marked increase in the numbers of Australians appealing for help, citing the widening gap between income and daily expenses.
She said the issue had been compounded by households' monthly bills including food, utilities and petrol becoming so unaffordable that crowdfunding had become the only option.
"This type of charity partnership, working with the likes of Vinnies, are some of the first of their kind for GoFundMe in Australia," she said.
"By connecting GoFundMe fundraisers with Vinnies' services, we aim to help source longer-term solutions to ensure those in need no longer need to rely on community fundraising to cover rising cost of living expenses.
Launched in 2010, GoFundMe has raised more than $9 billion from more than 120 million donations harnessing the power of social networks and the internet to give people the means to raise funds relying on the kindness of their community.
FULL STORY
Vinnies, GoFundMe bond to help battlers (By Debbie Cramsie, The Catholic Weekly)