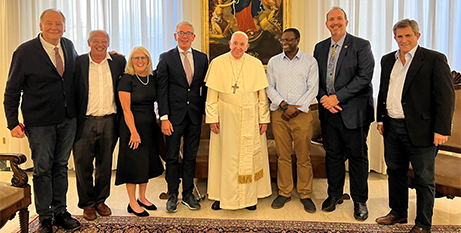 The global network of Edmund Rice schools, including Edmund Rice Education Australia, has partnered with Pope Francis' education initiative, Scholas Occurrentes. Source: EREA
Members of Edmund Rice Education Beyond Borders (EREBB) were privileged to recently meet with Scholas founders, Pope Francis and José María del Corral, to discuss how to further promote global connections among young people and enable a "culture of encounter".
This encounter supports young people to look beyond themselves and work together to respond to the needs of others, particularly those most marginalised in the world.
During the meeting, Pope Francis expressed his delight with the work that Catholic schools in the Edmund Rice tradition are doing in Australia and around the globe to make the world a more just, sustainable and peaceful place.
The meeting concluded with the Pope leading the group in shared prayer and offering a blessing for all Edmund Rice schools, students, staff and families. Francis finished with the encouraging words of, "Now, just go and do it!".
Edmund Rice Education Australia (EREA) interim executive director, Ray Paxton, said it was a great privilege and opportunity to partner with Scholas Occurrentes.
"EREA is honoured to be contributing to EREBB's work with Scholas Occurrentes. Pope Francis continues to inspire our commitment to liberating practice through his words, actions and challenges," Mr Paxton said.
"This is a wonderful opportunity for all Catholic schools in the Edmund Rice tradition to be part of the global movement of enabling young people to collaboratively make a different in the world.
"Over the last decade, and particularly throughout the pandemic, our schools have come to value the importance of collaborating beyond borders and working together to ensure a better world for all people and the planet."
This partnership will enable schools around the world to actively participate in and contribute to the transformative programs of Scholas Occurrentes.
PHOTO: (L-R) Wayne Tinsey (Australia, EREBB Ambassador), José María del Corral (Scholas Occurrentes), Cris Ritchie-Bonomo (United States), Gerry Bennett (Ireland), Pope Francis, Br Albert Gomez (Sierra Leone), Brian Garrone (Australia), Alberto Olivero (Argentina).
FULL STORY
Global Edmund Rice Schools to Partner with Pope Francis' Education Initiative (Edmund Rice Education Australia)