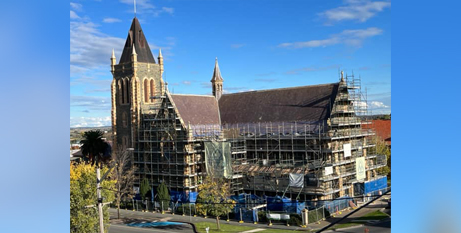 In the final stages of the restoration of Sts Peter and Paul's Old Cathedral in Goulburn, more historic treasures have come to light. Source: About Regional.
When floorboards were lifted to enable crossbeams to be installed during the $10 million project at the church, contractors found prayer cards, music sheets, rosary beads and candlesticks. One special find was a hand-written hymnal in Latin for a formal Mass.
A big community celebration and High Mass will mark the reopening of the much-loved old cathedral next month.
The prayer cards, rosary beads and hymnal likely belonged to girls from Our Lady of Mercy, who sang at Mass many years ago. The choir loft hasn't been used for a long time due to its unsafe floor.
Restoration Committee chair Ursula Stephens said the memorabilia would be added to other historical items collected over the years, including an early priest's travelling Mass kit. This leather box contained everything needed to celebrate a Mass. Early chalices are also among the collection.
Beautifully crafted timber structures, including modesty boards once used at the front of the pews, and an early narthex (a structure that determines a cathedral's entry), made from deep-red cedar with intricate carvings, have also been uncovered. The narthex will be repurposed in future.
"To find these pieces in storage over time is going to help us tell the long journey of the expansion of the Catholic tradition in Australia," Dr Stephens said.
The restored cathedral will reopen on Wednesday, November 30, with a High Mass at 11am, concelebrated by Canberra-Goulburn Archbishop Christopher Prowse and Bishop Emeritus Pat Power and 10 priests.
FULL STORY
Restoration's 'ah ha' moment for Goulburn's Old Cathedral (By John Thistleton, About Regional)