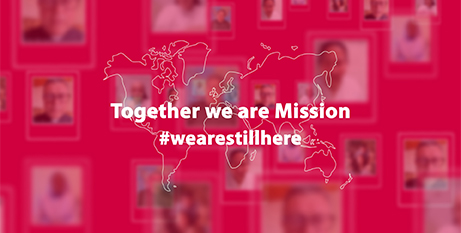 The Church will celebrate World Mission Sunday this weekend and Catholic Mission will mark the event by launching its #wearestillhere campaign, highlighting the role of missionaries in the world.
Pope Francis, in his 2022 World Mission Sunday Message, said everyone is invited to answer the call to be a missionary, sharing that "Mission is carried out together, not individually".
Catholic Mission is launching #wearestillhere, a 2022 campaign reflecting on the role of being a missionary.
Through the Pontifical Mission Societies (PMS) international network, known as Catholic Mission in Australia, individuals and communities, as missionary disciples, are able to reach beyond the Australian borders and carry the work of mission to the ends of the world.
The #wearestillhere message gives witness to the dedication and importance of this this large network of missionaries.
"Being part of the Pontifical Mission Societies is a crucial part of our identity and it is thanks to this network of missionaries that we are able to support the great work of Mission," Catholic Mission national director Fr Brian Lucas said.
"The #wearestillhere campaign reminds us of the importance of the togetherness and international cooperation in supporting those who need it the most. "
Details: catholicmission.org.au/wearestillhere
FULL STORY
Join Catholic Mission in this celebration with missionaries from around the world (Catholic Mission)