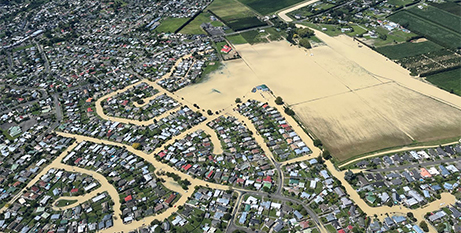 New Zealand has a steep mountain to climb as a tough recovery begins in the wake of Cyclone Gabrielle, Prime Minister Chris Hipkins said, confirming 11 people have died with more fatalities possible. Source: Stuff.
Cabinet would be considering early measures today to support the response and recovery from the cyclone, which hit New Zealand on February 12 before tracking down the east coast.
Mr Hipkins said New Zealand's resilience "is being tested like never before", with some places still cut off, fresh water in short supply in areas and 28,000 people without power.
"But as we've repeatedly seen in recent times, adversity brings out the best in Kiwis," he said.
"Lives have been turned upside down," he said. "Many people have seen their homes and all of their possessions completely destroyed. Countless others have been displaced."
"Tragically, so far 11 people have lost their lives and more fatalities remain possible."
Although most areas have been communicated with, some still haven't been accessed, Mr Hipkins said.
"6431 people have been reported to police as unaccounted for. We know that 3216 are okay and police are working hard to reconcile the others," he said.
As of Friday, Palmerston North Diocese had not heard from Fr Rob Devlin, SM, or from St Peter's parish or St Joseph's School in the town of Wairoa in northern Hawke's Bay, which has been hard hit by Cyclone Gabrielle, NZ Catholic reports.
In a statement on Friday, Palmerston North local administrator Craig Butler said he had heard from "Marist Fathers and the Mission sisters in Napier that they are safe and sound" but no contact had been made with Fr Devlin and the Wairoa parish and school in Wairoa.
"Speaking to congregational leaders Fr Tim Duckworth SM and Sr Margaret Monaghan RNDM, two things are clear – Our sisters and priests in Hawkes Bay and Wairoa are resourceful and they're part of communities. Both these things are in their favour."
FULL STORY
Cyclone Gabrielle: PM warns tough calls to come as resilience 'tested like never before' (Stuff)
PN diocese hasn't heard from priest or parishioners in Wairoa but diocese hopeful for their well-being (By Michael Otto, NZ Catholic)