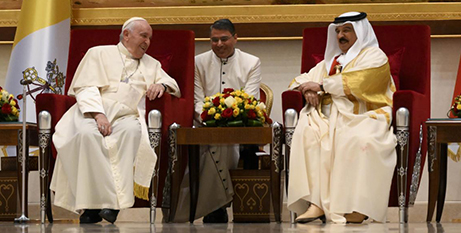 Pope Francis began a four-day visit to Bahrain yesterday by appealing to the country to strengthen its commitment to human rights through the abolition of the death penalty and ending religious discrimination. Source: NCR Online.
The Sunni Muslim leaders of the Persian Gulf kingdom have been under fire by leading international human rights organisations for their treatment of the country's Shiite Muslim-majority population, which makes up some two-thirds of the inhabitants of the tiny nation.
In an address to Bahrain's King Hamad bin Isa Al Khalifa and other government officials, Francis cited the country's own constitution, which forbids discrimination on the basis of sex, origin, language, religion or creed.
Such commitments, said the Pope, "need constantly to be put into practice, so that religious freedom will be complete and not limited to freedom of worship; that equal dignity and equal opportunities will be concretely recognised for each group and for every individual; that no forms of discrimination exist and that fundamental human rights are not violated but promoted".
In particular, the Pope singled out the country's recent reliance on the death penalty. Bahrain's de-facto moratorium on capital punishment ended in 2017. Since then, six people have been executed,
"I think in the first place of the right to life, of the need to guarantee that right always, including for those being punished, whose lives should not be taken," Francis said.
FULL STORY
In Bahrain, Pope Francis pleads for greater commitment to human rights (By Christopher White, NCR Online)