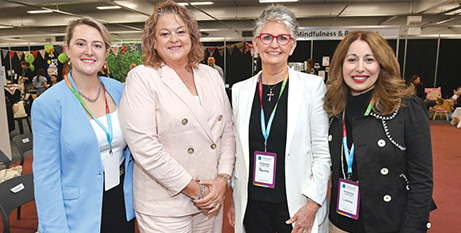 The urgent need to tackle generational poverty and disadvantage was highlighted by South Australian Human Services Minister Nat Cook at Centacare Catholic Family Service's 80th anniversary. Source: The Southern Cross.
Past and present Centacare staff, clients and community leaders came together for a liturgy and expo at St Aloysius College, Adelaide, on October 11.
Referring to the "important work of Centacare with people in our community who are marginalised", Ms Cook said one of the "biggest issues in our society" was generational poverty.
"If I could wind the clock forward and in three and a half years I was able to stand with the Premier in front of South Australia and say one thing, it would be that we have made inroads into tackling generational disadvantage and poverty," she said.
"It is so important and while I acknowledge there must be handouts – I acknowledge there is crisis and we must do that, but Centacare's willingness to work to strengthen and use that strengths-based approach in family services is something that I think we can grow, and I think we can do more to make sure families in the future are stronger and can remain together with the requisite supports that need to be offered."
Ms Cook thanked Centacare for its work with the marginalised, "those people who, with bad government policy, simply slip over the edge into vulnerability, people with disability, people living in poverty, older people, people who perhaps sometimes have made the decision that has left them wanting, left them needing and left them vulnerable".
The expo included a Welcome to Country by Centacare Aboriginal Services manager John Lochowiak and an address from director Pauline Connelly.
Ms Connelly acknowledged the "tens of thousands of people who needed Centacare's assistance over the years and who still do".
FULL STORY
Tackling disadvantage a priority (By Jenny Brinkworth, The Southern Cross)