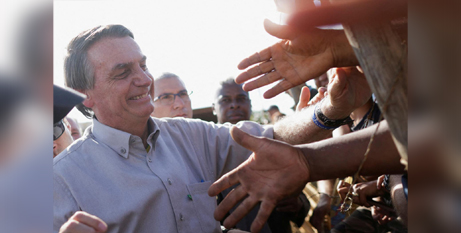 The Church has been trying to raise awareness that Brazil's Amazon region is seeing a rise in human trafficking but activists say it's a battle of David against Goliath. Source: Crux.
"There is a great connection between deforestation and human trafficking in the Amazon. The people employed in illegal logging and mining are most of the times suffering labour exploitation," said Graziella Rocha, Project Coordinator at the Brazilian Association for the Defense of Women, Children and Youth a non-governmental organisation that combats human trafficking.
Often, the organisations involved in the destruction of the rainforest also promote the sexual exploitation of young girls and boys trafficked from other regions, including from indigenous villages.
The chronically high rate of unemployment in Brazil and the lack of social protection for the poor, made worse after right-wing populist President Jair Bolsonaro took office in 2019, has made it easier for human traffickers to entice victims with promises of paid jobs, she added.
The number of victims is unknown, since the state is often not fully present in indigenous areas.
"The role of the Bishops' Conference has been important in that scenario. The Church is able to reach places where the state is not present. Many congregations and Church movements have been giving visibility to those problems," Ms Rocha said.
Sr Roselei Bertoldo is part of Um Grito pela Vida (A Cry For Life), a Catholic movement that works to prevent human trafficking. She said the number of cases reported to the group and to the authorities greatly increased during the COVID-19 pandemic – and has not gone down now as the health crisis subsided.
FULL STORY
Church groups in Brazil fight human trafficking (By Eduardo Campos Lima, Crux)