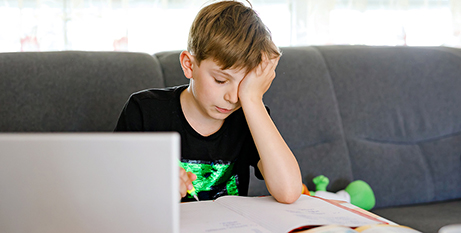 The toll that COVID-19 lockdowns took on Victorian children's mental health has been revealed in a new survey that contains reports of depression, self-harm and other effects of isolation. Source: Herald Sun.
The report on child wellbeing during the pandemic, released today, also shines a light on parents' fears about the long-term impact of months of remote learning.
The fourth Families in Australia Survey of parents was taken in November and December last year as the tough COVID restrictions were easing.
It shows that parents' concerns about children's mental health were "more apparent" the older their children were and corresponded to the length of remote learning.
One parent revealed their daughter, 14, suffered "significant mental health issues during the lockdown periods, including self-harm".
Another parent reported "mood swings, depressed moods and lower motivation for schooling" in their two children, aged six and 10.
One in 10 survey respondents nationwide reported being "extremely concerned" about their child's wellbeing.
Those who had children with additional needs also reported more challenges during the pandemic, which the report says was "to some extent" related to difficulties in accessing services.
It also acknowledged that parents' own mental health affected their rating of their children's mental health.
Federal Social Services Minister Amanda Rishworth said the research showed parents were concerned for their children.
"As life returns more to pre-pandemic normal, it's important parents know they can reach out for support if they need it."
The report calls for "sustained attention" on those who reported having a more difficult time during lockdowns to determine appropriate support to alleviate any longer-term effects.
FULL STORY
Lockdown's true toll on kids revealed (By Jade Gailberger, Herald Sun)