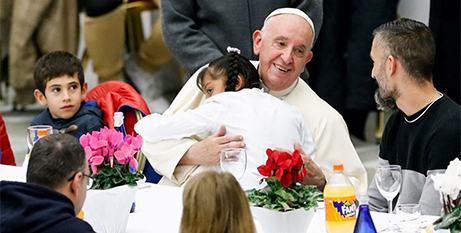 Declining access to food, greater discrimination against women and widening restrictions on religious freedom have contributed to a higher rate of poverty worldwide, said a new report by a Jesuit research university program. Source: CNS.
Overall, 26.2 per cent of the world's population lives in poverty, according to the Fordham Francis Global Poverty Score.
The score is based on seven measures for human wellbeing – four governing material needs and three related to spiritual needs – identified by Pope Francis during a 2015 address to the United Nations.
The Pope described material needs – water, food, housing and employment – and spiritual needs – education, religious freedom and civil rights.
Dr Henry Schwalbenberg, director of the Fordham University's graduate program in International Political Economy and Development, said the findings show that extreme poverty as measured under the seven criteria is the highest since the score was developed in 2015.
The program released the report on Friday during a United Nations side event at the school marking the World Day of the Poor on Sunday.
The report said the score was an average of data collected from more than 80 countries, none from the developed world.
While the report shows that access to clean water improved in 2020, the number of people who are undernourished in 2019 grew. Similarly, the number of people without adequate housing rose in 2020.
An estimated 51.2 per cent of women in the surveyed countries faced discrimination, the report said. Meanwhile, in 2019, 58.9 per cent of people – nearly 4.5 billion – lived in countries "where religious freedom is severely restricted," the report said.
When questioned why gender inequality and religious freedom are factored into the measure of global poverty, Dr Schwalbenberg explained that it comes down to "a philosophical decision" on what to include and that the program wanted to follow the Pope's description of factors affecting human wellbeing.
FULL STORY
Report shows poverty growing globally, reversing recent gains (CNS)