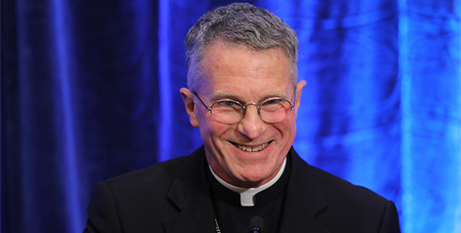 The new president of the United States bishops says he'd be "happy" to meet with President Joe Biden, a Catholic whose position on abortion, transgenderism and gay marriage is sharply at odds with Church teaching. Source: CNA.
In his first press conference since being elected president of the United States Conference of Catholic Bishops last week, US Military Services Archbishop Timothy Broglio said he looked forward to "any occasion that I have to dialogue with political leaders in the United States".
"I don't see my role as primarily political, but if there is any way to insert the Gospel into all aspects of life in our country, I certainly will not miss any occasion to do that," Archbishop Broglio said.
"I know that there has been a great desire on the part of the outgoing presidency [of Archbishop José Gomez of Los Angeles] to meet with the president and that hasn't been possible. If it's possible in the future, I'll certainly take advantage of that opportunity," he added.
"So you want to meet with the president?" a reporter asked.
"If he wants to meet with me, I'll be happy to meet with him," Archbishop Broglio responded.
A reporter asked Archbishop Broglio his thoughts on why he was elected, including what he would say to those "who would characterise [his] election as showing different priorities from those of Pope Francis."
"And as far as I know, I'm certainly in communion with Pope Francis, as part of a universal Church. We're brother bishops, we certainly know each other. I'm not aware that this necessarily indicates some dissonance with Pope Francis," he added.
FULL STORY
New USCCB president Broglio: I'd be happy to meet with Biden (By Joseph Bukuras, CNA)