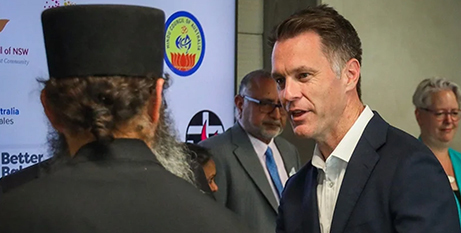 NSW Labor has promised to establish a faith affairs council that will report directly to the Minister for Multiculturalism if elected in March next year, with a broad remit to advise government on religious communities' issues and priorities. Source: The Catholic Weekly.
Opposition Leader Chris Minns made the announcement during a dinner with faith leaders earlier this month.
"I have asked my colleague Steve Kamper to act as a single point of contact for the faith community," Mr Minns said.
"This is important because it gives religious organisations a strong advocate within a Minns Labor Government and our decision-making process.
"Through Steve Kamper, faith organisations will be able to raise issues and concerns, and he will be able to represent your views across the wider government."
Labor's NSW faith affairs council would act as a formal channel for faith bodies to give feedback and advice to government.
Although the faith affairs council will report to Mr Kamper, Labor has not as yet announced a change to the title of the multiculturalism ministry to incorporate religious affairs.
"We announced there will be a direct connection through the council to the minister," Mr Kamper said.
"It provides an adequate definition there to say 'that's your minister' through the council. That's the positive message we're sending."
Labor's Faith Affairs Council would differ from the Coalition's Religious Communities Advisory Council in several respects, Mr Minns said.
Labor will appoint religious organisations to the council, which would then nominate their own representatives and elect their own chair. The council would report directly to Mr Kamper.
The Coalition Government's Religious Communities Advisory Council, announced in June, is a standing committee of Multicultural NSW and shares a chair with the Multicultural NSW Advisory Board.
FULL STORY
Council would be 'strong advocate' (By Adam Wesselinoff, The Catholic Weekly)