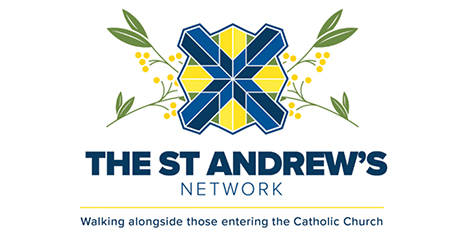 A new network that aims to support people interested in learning about the Catholic Church, especially those from a Christian or other religious background, was launched yesterday. Source: Melbourne Catholic.
The St Andrew's Network is made up of Catholic volunteers who want to help men and women from non-Catholic backgrounds who want to know more about the Church. This could be an ordained Christian pastor who is asking questions about Catholicism; a theology student from another Christian church wrestling with some Catholic claims; or a convert to the Catholic Church who is looking for others who understand the journey.
Melbourne Archdiocese's Nigel Zimmermann is co-convenor of the network with Peter Holmes, who is based in Sydney and served as a Lutheran minister before being received into the Catholic Church.
Mr Zimmerman, principal advisor to Melbourne Archbishop Peter A Comensoli, was raised in the Baptist Church, became an Anglican and served as an ordained Anglican minister for seven years. The father of five was received into the Catholic Church in Scotland in 2009.
"Having had experience as ordained ministers in other denominations and having been shaped by other Christian traditions (including Lutheran, Baptist and Anglican), we felt ourselves coming home when we entered the Catholic Church. We love sharing our faith, and the peace we found in the Catholic tradition motivates us to have open hearts and minds to others on similar journeys," Mr Zimmerman said.
The network aims to provide a listening ear, encouragement and prayer, and connection for people in the Catholic Church, wherever they are on the journey.
Details: St Andrew's Network website.
FULL STORY
The St Andrew's Network: walking alongside those entering the Catholic Church (By Fiona Basile, Melbourne Catholic)