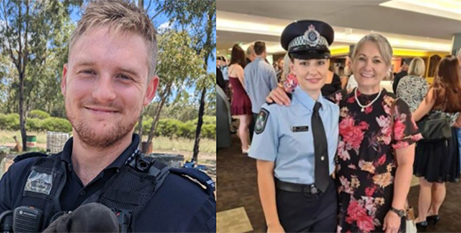 The tragedy of six people killed in an execution-style ambush and siege is being felt across Queensland. Source: The Catholic Leader.
Wreaths were being laid outside the police station in Tara in the Western Downs as locals grieved the loss including two young police constables Rachel McCrow, 29, and Matthew Arnold, 26, both shot dead on Monday "in the line of duty" at nearby Wieambilla.
Constable Arnold was a former student at Brisbane's St Laurence's College, a graduate and Sportsman of the Year in 2013.
"Matthew is remembered as a man of service, integrity and compassion," St Laurence's principal Chris Leadbetter wrote on the college's Facebook page.
"We also offer condolences to the families of the other innocent victims of this tragedy. We are all reminded of the significant risk that our police deal with every day in protecting our community."
Four Queensland police officers went to a property in Wieambilla on Monday afternoon to investigate a missing persons case from New South Wales.
As they approached, two officers – Constable McCrow and Constable Arnold – were fatally shot by two armed offenders, and a member of the public was also shot and killed.
The alleged offenders – Nathaniel Train, Gareth Train and his wife Stacey Train – were shot and killed by police late Monday.
Alan Dare, a 58-year-old man from a neighbouring property, was shot after going to investigate what appeared to be a car fire at the property.
An emotional Queensland Police Commissioner Katarina Carroll said the slain officers were "committed and courageous young people".
"To lose two officers in one incident is absolutely devastating," Commissioner Carroll said. "This event is the largest loss of police life we have suffered in a single incident in many years."
FULL STORY
Two police officers among six slain in Queensland siege (By Mark Bowling, The Catholic Leader)