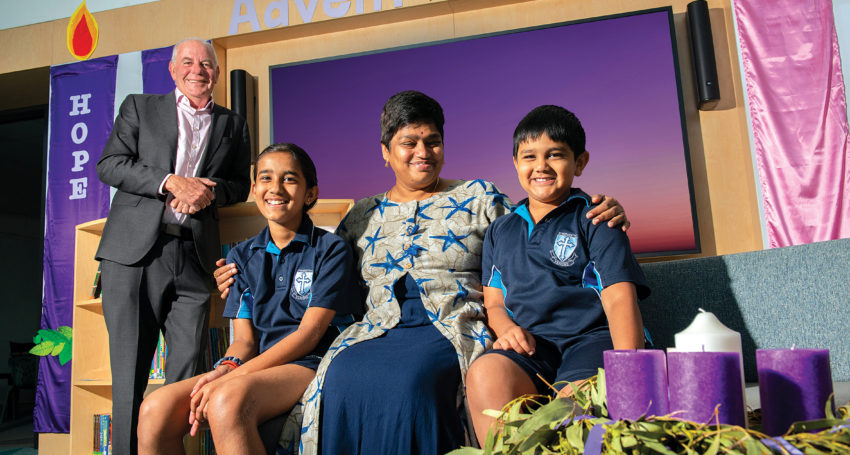 Eight months after their parents were killed in a car crash, Bhava and Palvith are smiling again – thanks largely to the support of their aunt, friends, the Indian community and St Bernadette's School in Adelaide. Source: The Southern Cross. 
On April 26, their worlds changed forever when the family of four from Flagstaff Hill was involved in a horrific car crash in India. Parents Hems Peddagamalla and Rama Battula died in the accident, with the children suffering serious injuries and spending the next 35 days in hospital.
Friends of the family believed it was best for the children – who were both born in Adelaide – to return to familiar surroundings when they were well enough, and the Telugu Association of South Australia set about raising more than $250,000 to support the cause.
At the same time parents and students at St Bernadette's School in St Marys put up their hands to help in any way possible. The Catholic school is the epitome of diversity, with its 143 students representing more than 20 different cultural backgrounds and religions – the largest faith group being Hindu, as are Bhava and Palvith.
"When the accident happened I had so many emails, letters and conversations offering support, asking what can we do? The children had been here for less than a year, so a lot of families didn't know them, but still the support was overwhelming," said principal Ray Higgins.
"Being a small school with such diversity helps families feel welcomed and connected, which in turn led to those offers of support."
At the start of Term 3 the children were excited to return to school.
"The best thing about St Bernadette's are my friends," said Palvith with a cheeky grin, with Bhava echoing this sentiment.
Their aunt, Bala Battula, who made the big decision to quit her job in banking in India and resettle in Adelaide, said she had always cared for her younger sister, Rama, when they were growing up and "now I need to care for her children".
FULL STORY
Good tidings after family tragedy (By Lindy McNamara, The Southern Cross)