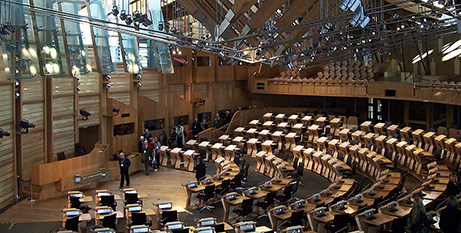 Scotland's bishops have released a strongly worded statement in opposition to the Government's plans to make it significantly easier for individuals to change their gender identity. Source: CNA.
Members of the Scottish Parliament are expected to vote today on the controversial Gender Recognition Reform Bill, which would scrap the need for a medical diagnosis of gender dysphoria in order to qualify for a gender recognition certificate (GRC).
A GRC is a document that "legally recognises that a person's gender is not the gender that they were assigned at birth, but is their 'acquired gender,'" according to the Scottish Parliament.
In a statement issued on Monday, the Bishops' Conference of Scotland said the changes were gravely worrying.
"The bill introduces a system of self-identification, allowing a person to change their legal sex without the need for a medical diagnosis of gender dysphoria or having to consult a doctor," the bishops wrote.
"Removing this requirement and denying the important medical oversight that goes with it will inevitably reduce the opportunity for crucial health care, support, and protection for vulnerable individuals, including children."
Critics of the bill are particularly concerned that the new legislation lowers the age of gender transition from 18 to 16 years old. The bishops emphasised their worries about the safety of women and children in particular.
Under current British law, people who wish to officially change their gender have to apply to a national panel and usually have a diagnosis of gender dysphoria. The new bill would transfer the handling of applications from the UK panel to the Registrar General for Scotland, and there would be no need for a medical or diagnostic report.
FULL STORY
Scottish bishops warn of 'gender reform' bill (By Madeleine Teahan, CNA)