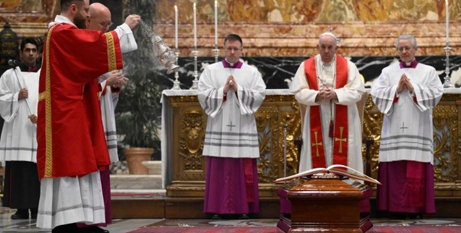 Cardinal George Pell, who died in Rome last week of a cardiac arrest following hip surgery, has been remembered as "a man of God and a man of the Church" during his funeral Mass at St Peter's Basilica. Source: CNS.
The death of Cardinal Pell was a shock because just five days earlier he had concelebrated the funeral of Pope Benedict XVI and "seemed in good health," said Cardinal Giovanni Battista Re, dean of the College of Cardinals.
In his homily at Cardinal Pell's funeral Mass on Saturday evening Australian time, Cardinal Re described the Australian prelate as often being "a strong-willed and decisive protagonist" with "a strong temperament that, at times, could appear harsh".
Cardinal Pell died of a heart attack on January 10 at a Rome hospital after undergoing hip surgery. He was 81. He will be buried at St Mary's Cathedral in Sydney, where he had served as archbishop before Pope Francis chose him as prefect of the Vatican Secretariat for the Economy. Prior to his appointment to Sydney, Cardinal Pell had been Archbishop of Melbourne.
The Pope, who had praised the cardinal for keeping his faith "with perseverance even in the hour of trial," arrived in St Peter's Basilica at the end of the Mass to preside over the final rite of commendation, as he usually does for cardinals who die in Rome.
"The last years of his life were marked by an unjust and painful condemnation," Cardinal Re said, referring to Cardinal Pell's conviction on charges of sexual abuse and his 404 days in jail before the High Court overturned the conviction.
Cardinal Pell's trust in God amid such suffering, Cardinal Re said, was an example of "how to accept even unjust punishments with dignity and inner peace".
The cardinal's three-volume Prison Journal made clear "how much faith and prayer" helped him, and the books could help others who "suffer unjustly," Cardinal Re said.
"A man of God and a man of the Church, he was characterised by a deep faith and great firmness of doctrine, which he always defended without hesitation and with courage, concerned only with being faithful to Christ," Cardinal Re said. "As he repeatedly pointed out, the weakening of faith in the Western world and the moral crisis of the family grieved him."
Cardinal Re ended his homily saying, "To God, who is good and rich in mercy, we entrust this brother of ours, praying that God may welcome him into the peace and intimacy of his love."
At the conclusion of the funeral Mass, Cardinal Pell's body was solemnly carried from the Basilica, followed by the Cardinal's family, back to the Church of Saint Stephen, where he it had been lying in state. Family and friends gathered at Domus Australia after the Mass to share memories of Cardinal Pell and to acknowledge their sense of shock at his sudden death.
Australian Catholic Bishops Conference President, Archbishop Timothy Costelloe SDB, who attended the funeral Mass, said many hundreds of people had gathered to pray for Cardinal Pell's eternal rest and to thank God for his life and ministry in Australia and more widely.
"The celebration in Saint Peter's was, in many ways, the Church in Rome's farewell to 'one of their own'," Archbishop Costelloe said. "The cardinals have lost one of their brothers."
The Australian farewell would take place in Sydney in the coming days, he said.
The Cardinal's mortal remains will soon be transported home to Sydney where a solemn Requiem Mass will be celebrated. The Cardinal's body will then be laid to rest in the crypt of Saint Mary's Cathedral.
FULL STORY
Cardinal Pell's faith, suffering remembered at Vatican funeral (By Cindy Wooden, CNS via The Catholic Weekly)
Cardinal Re: Faith sustained late Cardinal Pell in difficult final years (Vatican News)
RELATED COVERAGE
Funeral for Cardinal George Pell held at the Vatican with Pope Francis giving final blessing (ABC News)
Cardinal George Pell farewelled in Vatican funeral service (SBS News)
'Faithful servant' George Pell farewelled at St Peter's Basilica in the Vatican (SMH)
Pope Francis joins rites at funeral for Cardinal George Pell (The Australian)
At funeral, Pell hailed for bearing 'unjust condemnation' with dignity and peace (Crux)