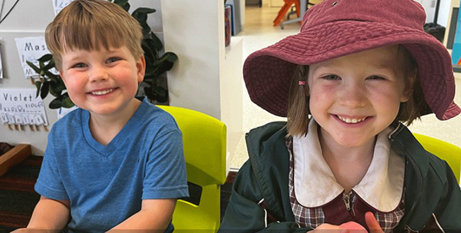 There likely won't be a tear in sight among the prep class of 2023 at St Mary's College Kingaroy on their first day of school next week. Source: Catholic Leader.
That's because the four and five-year-olds have been practicing being "big school kids" for six months, thanks to an innovative and unique Get Set For Prep Program created by the school, which transitions parents and students from kindergarten to school life.
And the program has been so popular, it's even created an enrolment boom at the Brisbane Catholic Education school.
"Our littlest students have been practicing everything for half a year now – from how to line up, unpacking our school bags and finding the water bubblers," Principal Carmel O'Brien, who created the program along with her teaching staff, said.
"They know the basics and are ready to be learners on their first day.
"To help strengthen their children's independence and confidence, their parents have come along to classes, workshops, and information sessions on a fortnightly basis from July last year."
Prep parent Amy Drew said her daughter Violet, aged 4 ,feels "so well prepared for school thanks to the Get Set For Prep Program".
"The program's made the idea of the first day of school less daunting for the both of us," she said.
"Since we started the program in July, she has wanted to go to school every day, which has provided me peace of mind as a parent."
As part of the program, parent information sessions were presented by parenting author Maggie Dent, child health specialist Dr Kaylene Hendersen, and parenting expert Dr Justin Coulson.
FULL STORY
Unique six-month Pre-Prep program prepares St Mary's College students for 'big school' (The Catholic Leader)