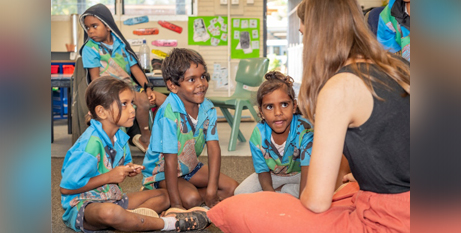 The National Catholic Education Commission has welcomed the move by the Albanese Government to cut Higher Education Loan Program (HELP) debt for teachers who stay four years in a "very remote location".
"It is an example of cross-sectoral support to address the immediate and future challenges of the teaching workforce and will help attract recent graduates to very remote schools in our sector," National Catholic executive director Jacinta Collins said.
"It is a positive initiative for very remote schools and communities, an acknowledgement of the issues facing the education sector and the federal Government's commitment to address them."
Under the plan, teachers (including early childhood teachers) who have completed four years working in very remote Australia can apply to receive a cut to their HELP debt.
Ms Collins said Catholic schools are present throughout Australia, including some of the most remote communities.
"We are committed to improving equitable learning outcomes for all students, especially those from disadvantaged backgrounds including regional, rural and remote Australia, Aboriginal and Torres Strait Islander students, students with disability and students from low socio-economic backgrounds," Ms Collins said.
"This initiative is a step in the right direction to ensuring equitable and improved learning outcomes for all students. We look forward to hearing about further initiatives arising from the National Teacher Workforce Action Plan as the year progresses."
FULL STORY
Cuts to HELP debt for Australia's most remote teachers an important move (NCEC)