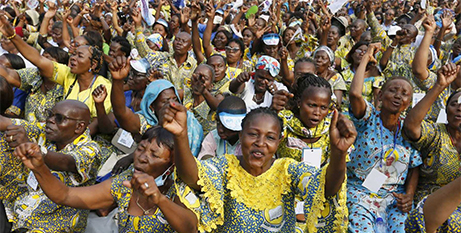 On his third day in the Congolese capital, Pope Francis met with 65,000 young people and catechists, saying it's up to them to build a better future by rooting themselves in community, prayer and service. Source: Crux.
The Pope told the crowd in Kinshasa yesterday to look at their hands, saying, "God has placed the gift of life, the future of society and the future of this great country in those hands of yours."
"Ask yourself, what are my hands for? For building up or for tearing down, for giving or for grabbing, for loving or for hating?" he said, noting that the hand can either be squeezed into a fist, or extended and offered to others.
"Young people, you who dream of a different future: from your hands, tomorrow can be born; from your hands, peace so lacking in this world can, at last, come about," he said.
Congo is infamous for the decades-long conflict which has left millions dead and displaced, and for the vast disparity between the wealth yielded by its mineral-rich soil, with diamonds being its most famous product, and the stark poverty in which most of the population lives.
After his meeting with youth and catechists, Francis met with Congolese Prime Minister Sama Lukonde and held a public meeting with priests and religious in Congo before meeting privately with Jesuits in the country.
Francis also warned the youth about what he said was an "addiction to the occult and witchcraft" prominent in many African societies, saying, "this form of dependency imprisons us in fear, vengeance and anger."
He told youth to spend time with other people, saying community is key to building the future of their country.
FULL STORY
From witchcraft to corruption, Pope warns Congo youth to resist bad choices (By Elise Ann Allen, Crux)