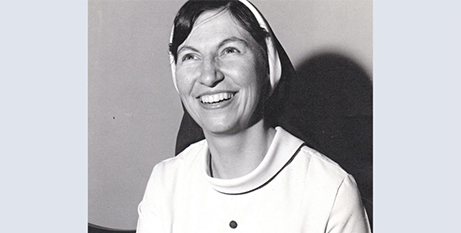 Sr Janet Mead's chart-topping version of The Lord's Prayer has been selected as one of 10 new additions to Sounds of Australia, a project of the National Film and Sound Archive of Australia. Source: The Southern Cross.
"Sounds" are nominated every year by the public and voted on by a panel of audio industry experts for their cultural, historical and aesthetic relevance, and their ability to inform or reflect life in Australia.
Thorsten Kaeding, the NFSAA's curator for the Sounds of Australia project, said the 2022 list was a "rich and diverse testament to the enduring power of audio in all its forms".
Speaking on The Project TV program, Mr Kaeding said "obviously everyone knew the words" to The Lord's Prayer, but there was also "a real appetite within rock and pop music for spirituality and I think she (Sr Janet) hit that real sweet spot".
Other "sounds" considered to have stood the test of time and worthy of being preserved for future generations included former prime minister Julia Gillard's 2012 misogyny speech and 17 hours of radio broadcast by Radio Redfern on January 26, 1988, when more than 40,000 people took part in the largest march in Sydney since the Vietnam moratorium.
Stayin' Alive by The Bee Gees also made the 2022 list, as did the theme tune from Neighbours and the jingle Out With The Old And In With The New used to introduce decimal currency in 1965.
Sr Janet's pop-rock version of The Lord's Prayer was the first recording by an Australian artist to sell more than one million copies in the US.
The complete Sounds of Australia list is available at www.nfsa.gov.au.
FULL STORY
Aussie icon status for Lord's Prayer (By Jenny Brinkworth, The Southern Cross)